Mostly people demand an affordable as well as long-lasting products. So, in this way, the UK and Germany products are at the top of the list. In this way, if we talk about spin dryers, then German Thomas 776-SEK is best ever machine for drying of wet clothes indoor and outdoor of the house. This machine is very unique in its design and shape.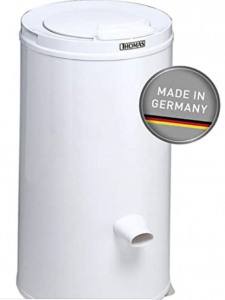 It comes in 4.5-kilogram weight holding capacity. So, you can use it for a single one as well as for a small family. Manufacturers provide 2 years warranty with this brand new spin dryer. In this way, if you found any issue in this machine, you can change it or replace it with a new one. Now, talk about the structure of this spin dryer in detail. The company provides a 35cm x 35cm x 65cm dimension in this dryer to dry your clothes. So, in this way, you can easily place this dryer in your house in any area without having more space. Due to unique design, it also enhances the beauty of your room and your courtyard where it is installed.
If we talk about the working efficiency of this machine, it's awesome in its functioning. It comes with 2800 RPM, which means it rotates your clothes 2800 times in a minute to dry them. In the case of weightage, it is not much light. This Thomas 776-SEK spin dryer has 11-kilogram weight. Overall, this weight is not so high and you can easily carry it from one place to another in the house.
Next, during the functioning of the spin dryer, the noise level is very important. In this way, this machine provides 67 dB sounds during its working or drying of clothes. This 67 dB sound or noise is not much high, but actually, it is not so low. In the case of energy efficiency, it comes with a C rating. So, a little bit issue about the energy efficiency is present in this spin dryer. But overall, the machine is well-featured and advanced to facilitate you with best drying or spinning.
Now, we can mention the most important thing in every electric machine, which is energy consumption. Everyone needs low energy-consuming machines in their houses. So, if you buy this brand for spinning of your wet clothes, it reduces your electricity bill. It consumes very low electricity. By the comparison of a tumble dryer with a spin dryer, Thomas 776-SEK spin dryer is low in price and easily affordable.
Now take a short look at the pros and cons in this spin dryer.
Also Read
To know best spin dryers for 2020 read the full article.
Thank you for patience, stay tuned with WashingReviews.co.uk