If you are living in a large family and demands for a big sized spin dryer for spinning a huge laundry, then this product will be helpful for you in this matter. One-Concept MNW3-WS-3500 spin dryer comes with a 6-kilogram weight holding capacity. In this way, you have no worry to use the small dryer again and again, by using this machine; you can dry all the clothes in a single time. This brand new machine comes in an attractive and beautiful design to facilitate you with the best spinning.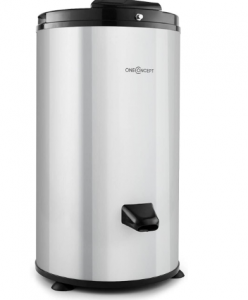 On the other hand, if we talk about body material of the machine, so, it comes in a plastic body. But, the plastic is very hard and thick and not easily damaged during usage for a long time. Manufacturers provide this brand with 2800 RPM, which means it can rotate around its axis 2800 times in a minute. So, in the case of rounds per minute or RPM, the machine is well efficient. In this way, it also saves your time and dries the clothes quickly. If you want to more reviews about the best spin dryer of 2020 then read this article. 
If we talk about in detail, then it takes only 4 to 5 minutes for drying the clothes in a bulk. For the purpose of drainage, this machine has no feature, so, you have to use anything extra for drainage of water. In this way, it's a drawback of this spin dryer that it has no special feature for this. In case of its dimension, it comes with 41cm length, 76cm width and 42cm height. 
Let's talk about the weight of the spin dryer, it is a little bit heavy and not easily move from one area to another in the house. Other than, it comes with a door safety lock which is also called a child lock. This lock helps you to protect your child from coming contact with the machine during functioning. One of the best features of this machine is that it never goes to spin whenever you close and lock the door.
In case of noise level, it produces very low sound during its functioning. So, it is efficient in this way and not produce a headache for you. It comes at a high price and not affordable for everyone. So, there are some drawbacks in this machine as well as with very good features.
Overall, this machine is good for you and environmentally favourable. It also consumes very low electricity to reduce your bill.
Here are given some pros and cons of this machine that will be more helpful for you to understand about this machine.
Also Read Indesit ISDG-428 Spin Dryer Reviews
We hope, after reading all the details of this brand new one-concept MNW3-WS-3500 spin dryer you are well-known to its features and drawbacks. Now, if you want to but this machine, just clicks on here or on the name of the product to get a direct approach on our website
If this product is not available in stock, then just wait a few days for it.