After washing and drying of clothes, ironing is very important to make the clothes look nice. In this way, there are a lot of tips here, by which you can iron your clothes with perfection and easiness. You can make your dress more presentable by using these tips.
Before starting the tips, I would like to express some points to understand the nature of clothes and the effects of high and low heat on these clothes.
Types of Fabric
You know that there are different types of fabric such as cotton, silk, velvet, etc. Different fabrics in your clothes require different ironing.
Silk is very soft fabric and easily damaged in excess heat by iron. Same in case of velvet, it is also damaged if we give extra heat during ironing. On the other hand, cotton, polyester, and leather are much heat resistant and easily bear the heat during pressing or ironing. So now we know that the majority of fabrics require the different intensity of heat and different way of ironing.
Fabrics mention their nature for ironing on their instructional notepad.
Tips to Iron Your Clothes
Concluding from the above points, here are some tips that will be helpful for you to press or iron your clothes at home without any problem.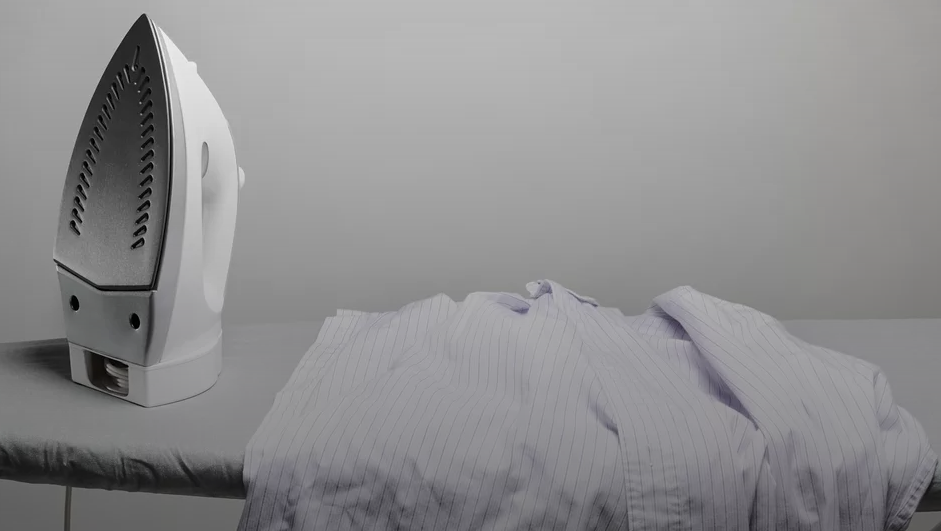 1. Suitable place
Ironing doesn't want much space, but a specific and suitable place is important for better work. Select any place for the table where you want to iron your clothes. People mostly use iron stands for ironing their clothes. These stands are mostly made up of wood, plastic or any metal. But it is not an issue if you do not have an iron stand. Just use your bed or floor for this purpose. You just need about 2 to 3 feet space for the straightening of your clothes.
2. Place a thick cloth on stand
After finding a suitable place and straightening the stand, you just need to place a thick cloth on the stand to provide a soft background. This cloth helps the iron to easily move on fabric and make the fabric free from wrinkles and folds. You can use your towel or bed sheet for this work. But don't use anything like silk for placing underside the clothes.
3. Straight your clothes on the stand
After doing all the above steps, just straight your clothes and put it on the stand or bed for properly ironing. Put the backside of your cloth on the upper side to iron first. Because if you press or iron the front side first, then during the ironing of the backside, folds and wrinkles will be present on the front side. So, keep in mind this tip for the nice and perfect ironing of your cloth.
4. Switch on Iron and select temperature
Turn the iron on and wait for a few seconds to let it warm. Mostly, irons take 5 to 7 seconds to become warm. Select the temperature on the iron depending on the nature of your clothes. If you don't know about the selection of temperature and nature of your clothes for ironing, then start from the lowest number and increase as needed to reduce folds and creases from your clothes. If you have thick, warm and wintered clothes, then obviously, you need a high temperature to iron them. So, in these cases select the high number on the iron.
New irons mostly have tags on their temperature regulator for ironing cotton, silk, and other fabrics.
5. Use water for making the fabric soft
If you are ironing clothes like cotton, leather, and wool then creases are not easily removed because of their hard nature. So, use water in the shower and spray on your cloth. Don't use much water or completely wet your cloth. Just spray and make it soft for pressing. Apply the iron softly on that part for perfect ironing. Now, mostly irons are coming with an automatic water supply. You just need to fill the water in the iron and during ironing just press the button to spray water on clothes.
6. Start from collar and cuffs
Collar and cuffs of a shirt are ironed first because these are harder than other parts of shirts and want extra heat to become crease-free. Although, it depends on you to select any part of your dress. But collar and cuffs make the temperature of iron suitable for other parts of the shirt and you can get well-known about the iron temperature.
7. Iron backside before the front side
Most people iron the front side first and then go to the backside of the dress. But, it is totally wrong. If you iron the front side first and then go to the backside, it makes the front side creased again. So, to avoid this problem, just put the backside and iron it. Then, come on the front side to make it look perfect.
8. Make the cloth straight by hand during ironing
It is commonly seen that people during ironing don't focus on straightening clothes. In the end, ironing does not show the perfect look. The dress shows creases and folding on different parts of it. So, always straighten the dress or cloth first and then press. Keep in mind, and try to straighten the cloth by hand during ironing, if you find any fold.
9. Hang the clothes after ironing
When you iron the clothes, then immediately hang it with the supporting hanger or any wire to save them from wrinkles. If you do that, then at the time of wearing you'll get creases and folds free dress. Folding cloth after ironing is not so good as it loses its perfect look. So, to avoid folding the clothes after pressing, try to hang it.
These all are the special tips for ironing clothes. By using these tips, you'll get a presentable look at your clothes.