If you are living in cold areas or have no extra space to dry your clothes outdoors. Then, don't worry about the situation, because washing reviews are here to make you happy in this review. We are here with a brand new condenser tumble dryer for drying of clothes indoor of house. This machine helps you to dry the wet clothes in the best ever way.
If you ever bought or used any product of Beko then you know about the company and their product's efficiency. This condenser tumble dryer comes with a 7-kilogram weight holding capacity. If you are surprised, then it is true, it has a large drum for storing your wet clothes for drying. In case of its dimensions it has 54cm x 59.5cm x 84.6cm.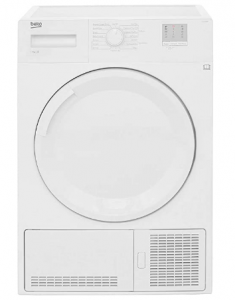 So, if you belong to a large family, feel free to dry all the clothes at a time. Actually, this is the most wonderful feature in this dryer. This dryer is not much heavyweight and you can easily carry it from one place to another in the house. On the other hand, manufacturers provide this condenser tumble dryer in 'B' class energy efficiency. So, it's good or we can say best for you because mostly tumble dryers are present with 'C' class energy efficiency.
Also, Compare Candy CSC-8DF, with Hoover HLV9DG and also you can compare different tumble dryers like  Candy grand-O-Vita GVSC9DCG, Hoover DXC 10 TD, Bosch WTE84106GB and White Knight C37AW and chose the best one after comparing all tumble dryers.
If you want to dry your garments in this machine, it actually takes 60 minutes for synthetic clothes. On the other hand, for the drying purpose of jeans and cotton, it takes more than 60 minutes. So, it is not a high range of time for drying. Other machines take a lot of time than this device. If we talk about guaranty, then manufacturers provide one-year assurance with this brand, containing a number of features. Let's talk about the beauty of this dryer.
It comes in very attractive as well beautiful colour. It also enhances the beauty of your room, kitchen or laundry room, where you install this machine for use. In case of its price, it is a little bit costly, due to popular brand and features. It consumes very low electricity than other dryers. So, it is an economically favourable product. This condenser tumble dryer comes with a long wire for easy approach to the electricity box. In this way, you have no need to use any extra extension for the purpose of current supply. 
Here are given some pros and cons to make you easy about the features and drawbacks of this machine. 
For more details related to washing related products, stay tuned with WashingReviews. If you want other small condenser tumble dryers Guide so make sure you read the full article.
We published another article with more products and their features.