In this review, we are going to make you known about the best features and drawbacks of this machine. After the discussion, you will be able to buy this machine due to a lot of best features.
In the list of best condenser tumble dryers, bosch WTE84106GB is a name of the qualified and well-performance product. This well-featured condenser dryer comes with 7 kilograms weight holding capacity for drying of clothes.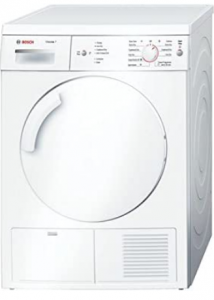 In this way, having a large family and the bulk of clothes is not an issue. You can dry a lot of clothes at a time in this dryer. Most people worry about their clothes by using a tumble dryer because the heater inside the machine harms the fabric.
But in this case of this machine, manufacturers provide a calm setting that protects your clothes fabric from damage by heat. It also comes with a timer feature that helps you to select the time for drying according to your need.
After reaching at that time, the machine automatically turns off. Therefore, if you go for another work during drying by this machine, you have no need to worry about damaging your laundry. If your child in your house, then it also comes with a child lock.
This machine comes with B class energy ratings. In case of its dimension, the machine has 59.8 cm x 63.9 cm x 84.2 cm. It consumes very low voltage and reduces your electricity bill. Hence, you can call it an economically favourable product. On the other hand, the price is also very reasonable. So, it doesn't create burdens on your bank. In case of its sound level, it is noise-producing dryer. It produces 66 dB noises when it operates. In doesn't come with any auto clean option. But, maybe in the next models of this brand, this feature will be installed. Therefore, after the drying of clothes, you have to wash it manually. 
Manufacturers provide 2 years warranty with this brand new Bosch condenser tumble dryer.
Now let's discuss the pros and cons of this dryer.
After the detailed review of this machine, if you want to buy this, just click read more. After the single click, you will get direct access for buying.