Candy is a UK brand that provides you with best-quality products related to washings. So, if we talk about this condenser tumble dryer, it comes in 9 kilograms weight holding capacity. Therefore, if we talk about all condenser tumble dryers in the review, then it is a high weight holding the machine. Due to a large size and very high weight holding capacity, you can dry all your clothes at a time. In case of a large family, the drying of clothes is such a big issue, but, if you have Candy grand-O-Vita GVSC9DCG Condenser Tumble Dryer, then feels free. You can use this dryer in any area of the house.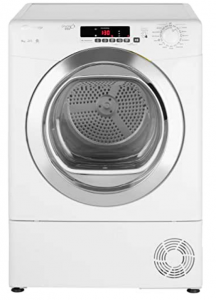 This machine comes with 'B' class energy efficiency, therefore, it is also a good point in this machine after the high weight holding capacity. Like 'Hoover', this condenser dryer also has senor technology for drying. It means, whenever your clothes become moisture-free, the machine automatically stops working. Thus, this feature makes your drying easier and reliable. On the other hand, by having this technology, energy consumption is also reduced. In simple words, when your machine turns off after drying by sensor technology, current supply automatically cuts off. In case of other machines, they have not this kind of feature, so they consume energy after the drying till they on.
This dryer comes with 68 dB sound. This level is not much high, but actually not reasonable. For drying of wool and delicate fabric, this machine has superior drying option. In this feature, the machine protects the fabric of these kinds of clothes. Manufacturers provide this brand new condenser tumble dryer in beautiful colour to enhance your laundry's room as well as your kitchen or where it is placed for usage. Its price is not much high and anyone can easily afford this machine. Other than these, this dryer has mobile phone monitoring, by this feature you can control the tumble dryer with your mobile phone.
A detailed review of other UK products shown that no product has this feature in them. Manufacturers installed reverse tumble feature in this dryer. Due to this feature, you can operate the machine in both rights as well as left direction. It comes with 24 hour delay time. In the case of energy consumption, it is economically favourable and helps to reduce the burden of electricity bill. 
Also, Compare Candy CSC-8DF, with Hoover HLV9DG and also you can compare different tumble dryers like   Hoover DXC 10 TD, Bosch WTE84106GB and White Knight C37AW and chose the best one after comparing all tumble dryers.
Let's discuss the pros and cons of this machine.
Hope, we will clear all your questions in this review related to this condenser tumble dryer. If you want more details regarding  Mini Tumble Dryer for 2020, click here to read our another article. We mentioned the best products with all their aspects in detail.
Thank you for connecting with WashingReviews.co.Uk