It is considered a small size condenser tumble dryer. Due to a small size, it can be used by a single one. In this dryer, you can dry only 3 kilograms wet clothes. So, the weight holding capacity of this machine is very low. But as we mentioned above, this machine is for a single one. So, in this way, the weight holding capacity is reasonable. If you are living in a hostel or single in the house, then this machine is best for you. Because having a large-sized machine is actually useless for you, and it also increases your electricity bill. Overall, having a small tumble dryer like White Knight C37AW Condenser Tumble Dryer also reduces your electricity bill as well as affordable to buy. For Comparison between the dryer, check to look the top 7Condender tumbler dryer list. It will help you to decide which one is suitable for you.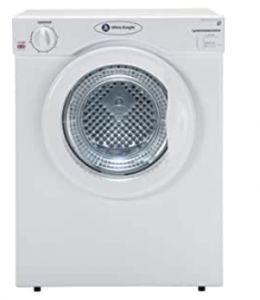 [
Let's discuss the best prospects of this machine in detail. It comes with 67 cm height x 50 cm wide x 47 cm deep in its dimension. In this way, it also takes a very low space in your room. Due to the small size, it also has very weight and you can easily move it in any area of the house. It is less noise producing and its sound noticed at 64 dB, which is very low. In this way, this machine is environmentally favourable and don't create any headache during its functioning. Manufacturers provide this machine is only 24 kilograms.
It comes with 'C' class energy efficiency. So, it is a little bit economically favourable for you. Manufacturers provide this tumble dryer with wheels, so, you can easily move this machine in your house as well as in your room. Wheels underside the dryer are stretchable. This dryer comes with dual heat settings to dry thin as well as thick clothes. By using this machine, you can dry all your clothes in just 140 minutes. This feature makes the machine very quick response showing and demandable in small families. It consumers 2.05-kilowatts per hour in a single rotation, it is really very low. So, again we mention that it is very affordable and reasonable in energy consumption.
Also, Compare Beko DTGC7000W with Hoover HLV9DG and also you can compare different tumble dryers like  Candy grand-O-Vita GVSC9DCG, Hoover DXC 10 TD, Bosch WTE84106GB  and chose the best one after comparing all tumble dryers.
Let's discuss the pros and cons of this small tumble dryer for further assistance.